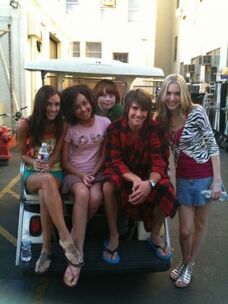 Tyler (Tucker Albrizzi) is a 10-year-old, red-haired, chubby kid, because of his mom, stars in the Juicy-Juice commercials. He goes to the Palm Woods School with Katie and the boys. His mother is obsessed with his acting career, and with the help of Katie and the boys he is able to hide from her. He has froggy slippers that were stolen along with Carlos's helmet, Mr. Bitter's bologna, and Buddha Bob's music box. In the episode "Big Time Sparks", James tried dressing him as a leprechaun to get rid of his bad luck. He appeared in "Big Time Dance" with a non-speaking role.
Ad blocker interference detected!
Wikia is a free-to-use site that makes money from advertising. We have a modified experience for viewers using ad blockers

Wikia is not accessible if you've made further modifications. Remove the custom ad blocker rule(s) and the page will load as expected.